Hello! I'm AJ Fox (they/them & she/her) and I'm here to help parents and caregivers become confident Trusted Adults.
As the primary educators in your children's lives, you play a vital role in teaching them emotional safety, regulation, healthy boundaries, and communication. But let's face it, our culture doesn't always prepare us for those random (sometimes awkward, sometimes sad, sometimes hilarious) questions and conversations that kids throw our way.
Are you ready to tackle those tough conversations as they come up? Do you want to create family practices that uphold your values? Figuring out how to discuss everything from sexuality to identity to emotional health in an age-appropriate manner can be tough stuff! But here's the good news: with practice and intention, it does get easier!
Kids thrive in supportive and communicative environments. However, as parents and caregivers, we aren't always equipped to have honest and comfortable age-appropriate conversations. Sometimes we struggle to align our actions with our values. That's where my work comes in. I specialize in creating spaces that support adults who are determined to establish a family culture that embodies their unique values. From discussing bodily autonomy to LGBTQIA+ inclusion to addressing the tough aspects of life, I help give every caregiver the tools to have value-consistent conversations with kids about sexuality, relationships, and social-emotional learning.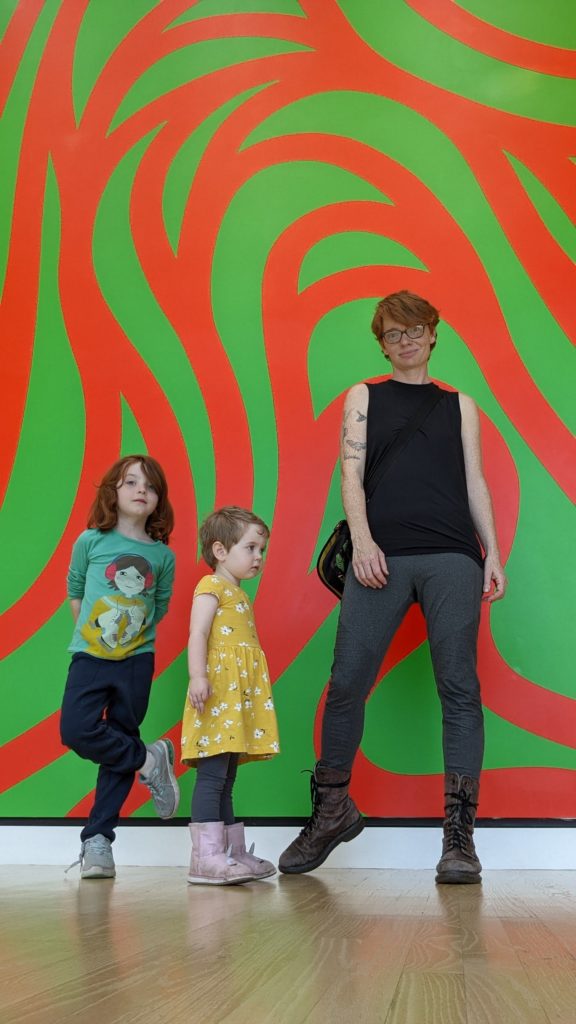 If you're a parent or caregiver, you're already creating a Family Culture for your children. Your home serves as a curriculum on how to navigate the world. It may feel like an overwhelming responsibility at times, but it's true. The good news is that there are ways to create a Family Culture that aligns with your values and helps kids develop the skills they need to become confident and competent adults. We can foster spaces and relationships that communicate core values, respect autonomy, and protect kids. And here's the really incredible and sometimes surprising news: parenting based on your values and engaging in age-appropriate communication is actually a LOT more chill than authoritarian, avoidant, or stress-based parenting.
I offer classes designed to support you (and the other Trusted Adults on your parenting team!) in becoming the informed and approachable presence you want to be for the kids in your life. The adults I work with attend my trainings because they're seeking tools to navigate the ongoing and challenging work of creating a family culture that supports their kids. Additionally, I provide confidential 1:1 sessions for parents and caregivers who need personalized insights into their individual situations. These trainings are not therapeutic interventions or substitutes for therapy. The trainings I create offer a chance to learn or refresh your knowledge on topics such as bodily autonomy, self-worth, self-regulation, co-regulation techniques, and engaging in difficult conversations with kids. Many trainings also provide opportunities to practice these techniques so that you feel better prepared when a curveball question arises from the backseat at 7:45 am. These are the skills that make us all better caregivers when we remember them and are ready to put them into action.
Remember, when we know better, we do better. These trainings are specifically designed to help parents and caregivers create family cultures that foster self-worth and autonomy for all family members. The topics covered in the trainings vary, and they're offered on a rotating basis. All meetings take place virtually, and you'll receive a full description of each session at the time of registration. With classes tailored to different child ages, caregiver-child relationships, and various topics, I work hard to ensure the material suits your needs, leaving you as a stronger, more insightful, and more flexible caregiver.
Sometimes, what you need most is a confidential space to share and receive feedback on how to handle a tough moment or a tricky conversation that you know is coming. My confidential 1:1 sessions are not therapy sessions or substitutes for therapy, but they offer you the opportunity to ask questions and receive support. Perhaps your child has asked a question about human sexuality that you're unsure how to answer. Or maybe you're struggling to find age-appropriate language to address a particular topic. It could be that your child's best friend has come out, and you want to be a supportive ally. Perhaps you simply want to practice your responses in a safe and nonjudgmental space. My 1:1 sessions are here to provide you with the space you need.
As for resources, tools, links, and everything else you might need, I've got you covered. There's an abundance of resources out there for caregivers, and it can be overwhelming to find the perfect article, podcast episode, or picture book that suits your specific household's needs at any given moment. That's why I put in the effort to curate my favorite materials, so I can support families in the moment. You'll find links to all my favorite resources on this site, making them easily accessible whenever you need them. Because let's remember, this isn't about having just "The Talk" once; it's about creating a family culture that encourages ongoing dialogue.
So, if you're ready to navigate those hard conversations, create a family culture rooted in your values, and provide your kids with the tools they need to thrive, I'm here to help. Let's embark on this journey together!